Ordinations 2020
Ordinations looked very different this year, but it was a wonderful celebration of the men and women who have been called into ministry in the Diocese of Monmouth.
On Saturday 3rd October, The Right Reverend Cherry Vann ordanied our new deacons and priests at Newport Cathedral, while on Wednesday 7th October she licensed a new Lay Minister, also at the cathedral.
Bishop Cherry said: "Having had to postpone the ordinations of our deacons and priests in July, it was wonderful to ordain two deacons, six priests and to license a new Reader.
"The occasions were very different this year as the number of people allowed to join us in the Cathedral was very limited. But the services were the same and they were just as significant for the candidates and for the Church as they always are.
"God continues to call women and men to ordained and licensed ministries to respond to the challenges of the day with the love of God and the gospel of hope.
"This is what these candidates have been called to do and we pray for them and for the Ministry Areas in which they will serve."
Although friends and family weren't able to attend the services due to current government restrictions, both services (Saturday and Wednesday) were live-streamed.
Those ordained as Deacon:
Kay Denly
Mary Moore
Those ordained as priest:
Revd Lea Ryder; Revd Lisa Taylor; Revd Bronwen Summers; Revd Matt Sellers; Revd John Thorne; Revd Heulwen Rees
Licensed Lay Minister (Reader)
Paul Stafford
You can watch ordinations at Newport Cathedral
You can watch the Licensing of Reader at Newport Cathedral
So, what was their first year of ministry like as deacons, for our newly ordained priests........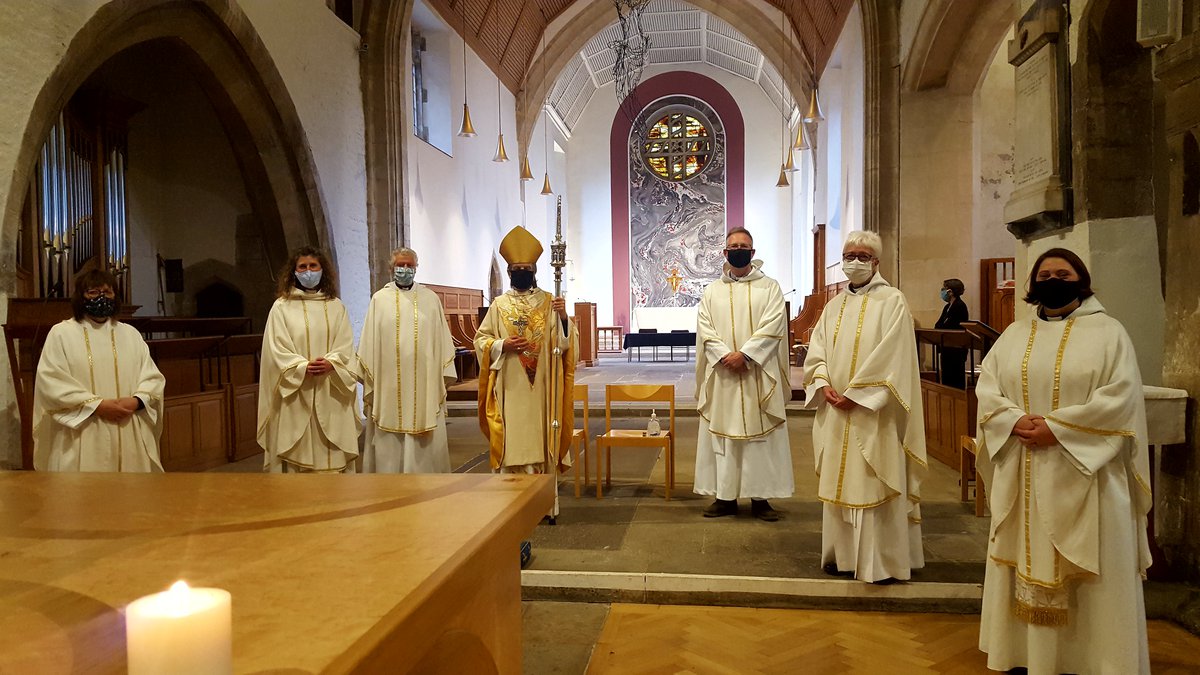 Revd Heulwen Lloyd Rees
Dwi'n edrych ymlaen i'r dyfodol!
My name is Heulwen and I serve in the Upper Islwyn Ministry area. My home is in Maesycmmer, so this whole area for me is home ground. It has been an eventful year! In the Autumn there were the school harvest celebrations and at Christmas our "live" retelling of the Christmas nativity. Having set up an Open the Book team, we were just on the cusp of taking our first school visits when Covid put a stop to our plans. Then came "Zoom" bringing the message of God through a totally different dimension. We used music, graphics alongside the familiar patterns of worship. After a house fire in July we had to relocate to Cardiff, but although it takes longer to get to church, it hasn't dampened my enthusiasm for what I feel that God wants me to be. Turning negatives into positives, new ways of 'doing' church- I look forward to the future.
Rev Bronwen Summers
Lockdown... opened the door for me to serve Gods people in a new and exciting way through the virtual medium
My first year of Curacy in the Cwmbran Ministry Area has been extremely memorable. The welcome and support from the congregation and the ministry team helped me to settle into my curacy quickly - for which I am grateful. It has been a rewarding experience including running workshops in St Gabriel's for primary school pupils, school visits, singing in the church choir for advent, painting faces for the Christmas Fayre as well as the traditional Deacons role in the church and surrounding community. Along with the normal came a sharp embracing of technology as we were thrust into lock down. However, it opened the door for me to serve Gods people in a new and exciting way through the virtual medium, including online worship, bible studies and prayer groups. I am looking forward to the next stage of my ministry to take forward what I have learnt and will continue to learn.
Revd Lisa Taylor
Now I really understand what it means to be flexible and adaptable in ministry!
My first year in ministry has been a real roller-coaster ride, with highs, lows and unexpected turns but throughout it all I have felt God guiding me. I have been blessed by the kindness and support shown to me from both the ministry team, in particular Fr Mark Owen, and the worshipping communities of the Upper Islwyn Ministry Area where I have served and will continue to serve. I feel privileged to have been able to care for those I am called to serve, preach the word of God and lead the people in worship; as well as to take God's love out to the local community through a variety of ways, all of which have become more challenging since the coronavirus outbreak and the changing restrictions. Now I really understand what it means to be flexible and adaptable in ministry! I hope that as I become a priest I will be able to build on the experiences of my first year, learning to savour each high and precious moment, rising to each challenge knowing that I am walking in God's grace and nothing is impossible for God.
Revd Samuel Patterson
I am excited ....to lead the people in the celebration of the Eucharist as we proclaim God's saving works afresh.
It's been a strange and difficult year, but at the same time there have been wonderful and joyful moments. It's been great to get stuck into the various parts of ministry and get to know the wonderful people in the Magor Ministry Area.
I spent the first part of the year assisting with cover in the Caldicot Ministry Area during their interregnum and it was a great joy to lead collective worship with Archbishop Rowan Williams CinW Primary every few weeks. More recently it's been great to see all sorts of people across the area pulling together to support one another and to get involved in our online services.
As I look ahead to my time here as Priest I'm excited to continue building the relationships and links I've established over the last year and to lead the people in the celebration of the Eucharist as we proclaim God's saving works afresh.
Revd John Thorne
In the case of the pandemic it has been a revival of the sense of community
My year as a deacon has been interesting, exciting and with Covid different. I continued to assist in and take services, as I have been doing for a few years as an LEM. In addition, I have been learning about baptism and funeral services. I have also had some very interesting Post Ordination Training with James, my training incumbent, Jeremy and St Padarn's. Sadly, participation in these services and training has been interrupted by Covid. We have been most fortunate in the Cyncoed Ministry Area in having online services of the highest quality, led by James and Matt. Unfortunately, due to my lack of technical expertise, my ability to assist in these has been severely limited and because of lockdown this gap in expertise has not been able to be addressed. As such I have only been able to take part by recording readings in the main. In all situations, even those as serious and devastating as those caused by Covid, there are always good things to be experienced. In the case of the pandemic it has been a revival of the sense of community, which I knew as a child and also I believe that the online services should be continued, even when we return to some sort of normality. As such I have suggested training for people like me. My intention as a priest is to continue to adapt to the different role of being a priest. In addition, to the emotionally charged service of ordination to the priesthood, I am also due to be professed into the 3rd Order of St Francis. Altogether then a most fascinating, if different year.