Bishop
The Right Reverend Cherry Vann
The sound of applause filled Newport Cathedral today as "our new Bishop" – the Right Reverend Cherry Vann – was enthroned as the eleventh Bishop of Monmouth.
Hundreds of well-wishers filled the cathedral to welcome Bishop Cherry to the Diocese of Monmouth.
Clergy and representatives from parishes across the diocese, as well as canons, bishops, diocesan staff, civic dignitaries and ecumenical guests were all there to see the first woman bishop take her seat – or 'throne' – at Newport Cathedral.
During the service, the mandate from the Archbishop of Wales allowing Bishop Cherry to serve as the Bishop of Monmouth was read before she was welcomed by the Dean of the cathedral, The Very Reverend Lister Tonge and the Cathedral Chapter.
The new Bishop was then anointed with the Oil of Chrism, vested with her cope and mitre and presented with the Diocesan Staff – the symbol of her authority in the diocese – before being installed in her seat in the Cathedral, the 'Cathedra; or Episcopal Seat.
Bishop Cherry then presented her first sermon after being officially installed.
During the sermon, she spoke of "massive potential in this diocese; in our churches and parishes, in our schools and ministry areas. Why? Because they're made up of people; people created by God and made in his image."
She celebrated that "God has given us a world teeming with difference and diversity….. and that we can often learn most and be the more enriched by those who are different to us, those who challenge us, even those we don't much like." She spoke of her time spent as Chaplain to the deaf Community in Manchester, describing it as the "most significant and transformative period of my 30 years' ministry to date."
She encouraged everyone to "join me in living out, as best as we can, the love of God for one another and for his world and, in doing so, building a world where all can feel that they have a place, all can belong and all can flourish. Christians call that the Kingdom of God."
Download: Bishop Cherry's enthronement sermon (Word)
You can also watch the service https://youtu.be/hWgVXQXRSgI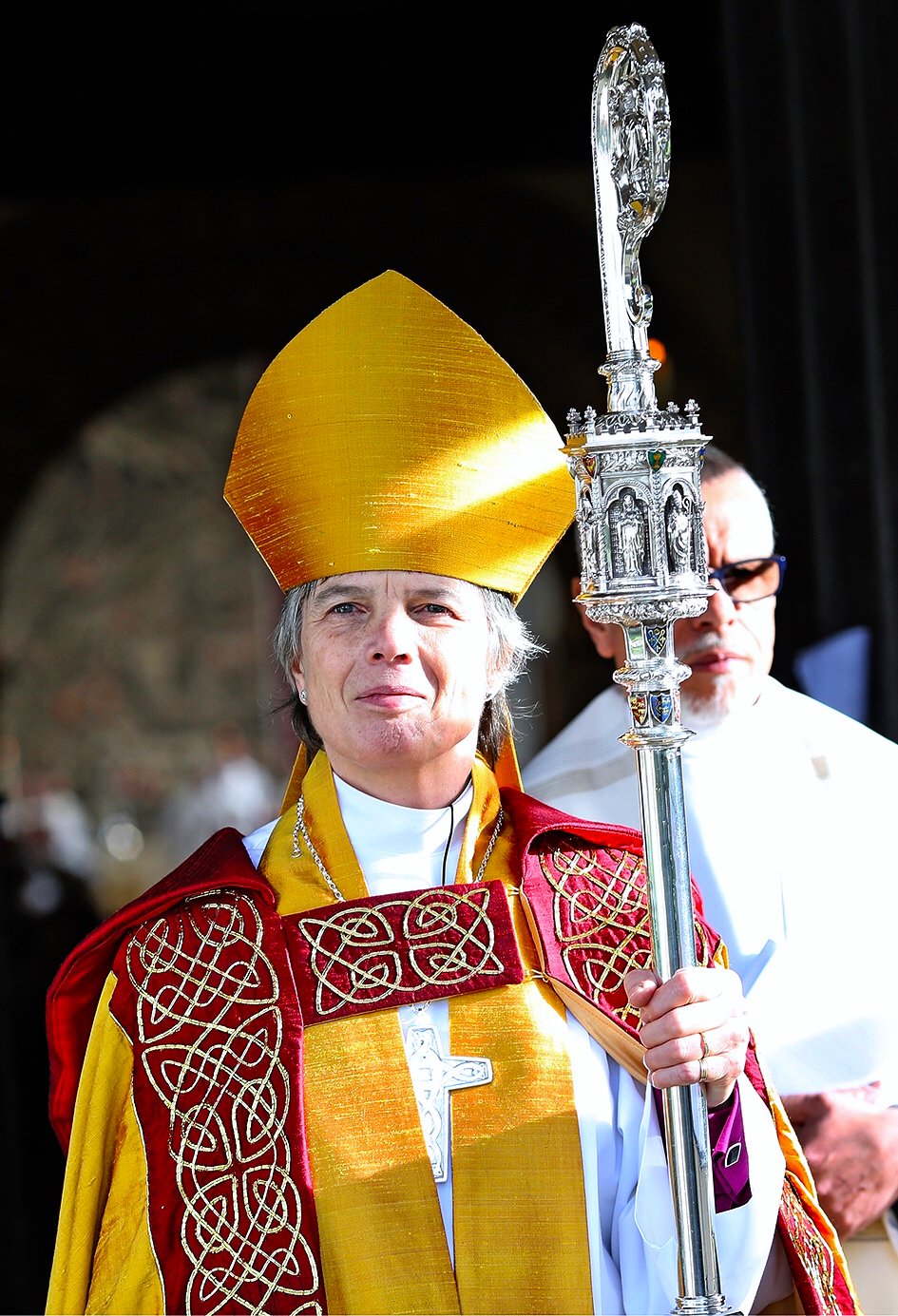 Biography
Originally from Leicestershire, Cherry Vann has served as Archdeacon of Rochdale, in the Diocese of Manchester, for the past 11 years. She trained for ministry at Westcott House, Cambridge, and was ordained as a deacon in 1989. Among the first women to be ordained as a priest in the Church of England in 1994, she has spent her entire ministry so far in the Diocese of Manchester, in Flixton, Bolton and Farnworth and latterly across Ashton, Oldham and Rochdale. She was also an honorary canon of Manchester Cathedral and a former chaplain to Deaf people.
Ms Vann has held senior posts in the governance of the Church of England. She has been Prolocutor of the Lower House of the Convocation of York and an ex-officio member of the Archbishops' Council.
A talented pianist, Ms Vann is both an Associate of the Royal College of Music (ARCM) and a Graduate of the Royal Schools of Music. She was conductor of the Bolton Chamber Orchestra for more than 20 years
Previous Bishops
1921-1928 Charles Green
1928-1940 Gilbert Cunningham Joyce
1940-1945 Alfred Edwin Monahan
1945-1967 Alfred Edwin Morris
1968-1971 Eryl Stephen Thomas
1972-1986 Derrick Greenslade Childs
1986-1991 Royston Clifford Wright
1991-2002 Rowan Williams
2003-2013 Dominic Walker OGS
2013-2019 Richard Pain