New Vicar in Netherwent Ministry Area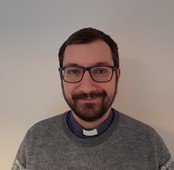 The Bishop of Monmouth is delighted to announce that Revd Peter Letson has been appointed as a Vicar in the Netherwent Ministry Area.
Working with Ministry Area Leader, Revd Canon Jeremy Harris, and other members of the Ministry Team, Peter will hopefully begin his ministry in early April.
Peter grew up in various vicarages around Wales, with his father serving as a Vicar.
Following a gap year which included three months in Uganda, he went to university in Norwich, studying Law with French Law and Language before spending a year working as an intern at the charity CPAS in Coventry. During this year he went through the discernment process and started at St Padarn's Institute in September 2017.
Peter was ordained in June 2019 and has been serving as Curate in Glan Ithon parish and the West Radnor Ministry Area in Swansea and Brecon Diocese and for the last year has also been based in the Upper Wye parish within that Ministry Area.
He is married to Clare who also grew up as 'a child of the vicarage', but across the border in England. Clare is particularly proud of her Devonian roots but due to a family connection, supports Wales in the rugby – so arguments on match day are kept to a minimum!
He enjoys walking, reading and listening to music, but can also often be spotted in local cafes enjoying coffee, cake or cooked breakfasts (and sometimes all three!).