New vicar for the Heart of Monmouthshire Ministry Area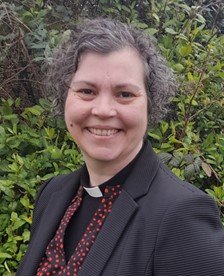 Bishop Cherry is delighted to announce that Revd Sue Davies-Fletcher has been appointed as a vicar in the Heart of Monmouthshire Ministry Area.
Following her training for ordination at Ripon College, Cuddesdon, Sue has served for four years in Devon in both coastal and rural communities.
Bishop Cherry, said: "I am delighted that Sue has accepted the post of vicar in the Heart of Monmouthshire Ministry Area. She has gained wide experience from her ministry in the Exeter Diocese and understands the challenges and opportunities of ministry in a rural context. Her appointment brings the ministry team up to full strength and we look forward to all that she will bring to the churches in the ministry area."
Prior to ordination, Sue worked in education in the Midlands and Derbyshire. She is married to Neal, and they have one daughter. Joining them on their move to Monmouthshire will be rescue dog, Pippa
She said: "I have a particular passion for outward facing ministry engaging with those outside church and have enjoyed contributing to the Devon church weddings team as well as spending time serving as a Sea Cadet Chaplain.
"I am very much looking forward to joining the ministry team in the next steps on the journey and taking time to get to know those who live and work in the area."
We look forward to welcoming Sue and the family to the ministry area over the next few months with the exact date for the licensing to be confirmed in the near future.