New Vicar for Mynydd Bedwellte Ministry Area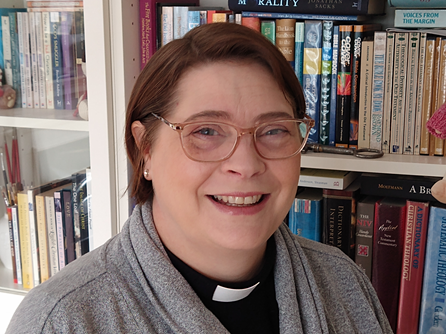 The Bishop of Monmouth is pleased to announce that Revd Lisa Taylor has been appointed as Vicar in the recently inaugurated Mynydd Bedwellte Ministry Area.
Lisa is currently serving as Assistant Curate in the Islwyn Ministry Area and although she is relatively new to ministry, she has a vast experience of church life, having worshipped in a variety of settings, in various traditions and served in different lay positions within the Church.
She has been in the Welsh Valleys for nearly two decades, most of which has been spent in district nursing.
She said: "I have been involved in the life of many families. I have seen the hidden poverty but also the kindness and the support communities give to those in need. This has given me a heart for pastoral care, a passion to express the love of God through the message of the Gospel and loving service, to transform the lives of people who are poor, whether in body and or in spirit, and to grow relationships that connects the church family to all aspects of family life.
"I have embraced valley life and I feel a strong calling to minister amongst the people here, so I am excited and looking forward to this new role. I will be moving to the area with my husband Paul, daughter Naomi and my black Labrador, Bailey. When I am not working, you will find me swimming, out on long walks with Bailey, or sitting somewhere knitting. If you see me out and about, please stop for a chat.'
Revd Canon Mark Owen, Ministry Area Leader in Islwyn where Lisa is currently based said: "We are delighted at Lisa's appointment and wish her every blessing in her now role. Lisa has made a great impact in the Ministry Area and shown great passion for the Gospel. Her pastoral ministry has been second to none showing great compassion and empathy. I know that she will be a tremendous asset to the Mynydd Bedwellte Ministry Area and a great loss to us. I am personally delighted that Lisa will continue to Minster in the Gwent Valleys."
Revd Matt Davis, Ministry Area Leader of Mynydd Bedwellte added: "I am really delighted to be welcoming Lisa to a wonderful team here where I have no doubt her gifts will be well used as we grow together as a Ministry Area serving and loving our communities.'
Lisa is likely to begin her new role sometime in mid May.