New Clergy for the Upper Eastern Valleys
The Bishop of Monmouth is delighted to announce that two new clerics have been appointed for the proposed Upper Eastern Valleys Ministry Area and they will move to Ebbw Vale soon after Easter in preparation for their licensing service in May.
The Revd Dominic McLean will be the Ministry Area Leader and the Revd Tony Hodges will be a Vicar in the Ministry Area. They come to Monmouth from the Diocese of Bangor and will look after an area including Ebbw Vale, Blaenavon, Abertillery and the surrounding communities.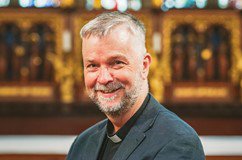 Dominic has a great love of Wales and has been learning welsh for the last six years but describes himself as still very much a learner. He grew up in St Albans in Hertfordshire but has a mixed background, his mother being from Northern France and his father from Northern Ireland. He enjoys researching his roots and can trace back his ancestors in France to the 1600's. He loves going birding and has already discovered that within the ministry area there are nightjars.
Dominic is currently the Director of Vocations and Discipleship for Bangor Diocese and his role there has been to encourage and support those who are considering ministry in the diocese, something he hopes to continue in his new role. Previously he had been a Priest in St Catherine's Burbage and Market Bosworth in Leicester Diocese. He's been involved in Chaplaincy work in prisons, and hospitals and hospices in London and was a Deacon in inner city Leicester, London, and Glasgow.
Before ordination to the priesthood he worked as a Chief Executive of a number of charities working with the Voluntary Sector as a whole and with the homeless and victims of crime in particular.
Dominic says,
"I'm excited about coming to work with the people in the Eastern Valleys, because of their straightforwardness, their welcome, and sense of fun.
"I'm looking forward to working with the team across the soon to be formed ministry area and work with you all to be a light of God's kingdom present in these communities."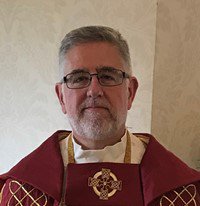 Tony is from Merthyr Tydfil and trained for ordained ministry in the Roman Catholic Church at St Marys' College, Oscott, England and St Patrick's College, Carlow, Ireland. He was ordained deacon in 1990 and priest in 1991 for the Archdiocese of Cardiff where he worked as parish priest in various parishes throughout the south east. He was received into the Anglican Church in 2016.
He has been chaplain to Deaf and Hard of Hearing and has also worked at Luz - Saint Sauveur in the south of France where, with another priest, he looked after the Luz Pastoral Area comprising 17 churches.
Fr Tony is passionate about wildlife and nature and trained as Safari Field Guide and Trails Guide in Botswana and South Africa where he has family. He has worked for the RSPB and trained as an ecological consultant. He is a proud member of the Gorsedd where not surprisingly he took the name Glas y Dorlan (Kingfisher) and was awarded the honour for his work in promoting Welsh language and culture as a parish priest in Cardiff. He and Dominic have a house in Brittany which is being slowly renovated and both enjoy travel. They also share a passion for birding and the natural world.
He is currently the Bro Ardudwy Area Ministry Leader in Gwynedd.
Fr Tony says,
"I am looking forward to the next exciting challenge in my ministry, working closely with the people of the Upper Eastern Valleys, helping to deepen our relationship with God and being Christ to the communities around us."