Licensing of Revd Liz Perry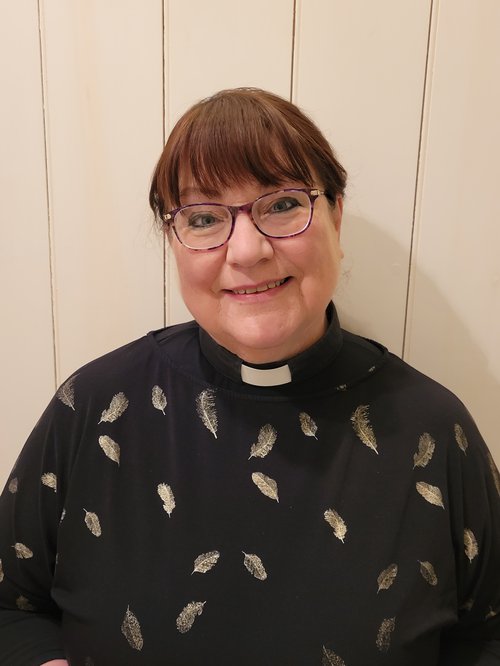 We are delighted to announce that Revd Liz Perry has been licensed as a House for Duty Priest in the Monmouth Ministry Area, during a wonderful service at St Denis's, Llanishen on 27th January.
Liz comes with a wealth of experience and joins us from the Diocese of Bristol where she has been part of a multi-cultural city centre church, working alongside a homeless charity supporting those leaving homelessness to live in a working community. She has also served as a prison chaplain for the last 11 years.
Announcing the appointment just before Christmas, the Rt Revd Cherry Vann, Bishop of Monmouth, said: "This is an excellent appointment. Liz will bring gifts and experience that will benefit the wider diocese as well as the Monmouth Ministry Area and we really look forward to welcoming her in the New Year."
Whilst working across the Ministry Area, Liz will be living in Llanishen and primarily working in the four churches in that area.
She will also continue in her role as Managing Chaplain of a multifaith team in South Gloucestershire part time.
Liz said: "My early years of work were in the civil service and then in medical practice management - I have always worked in people-facing roles and found that I was often alongside others in intense periods of their lives.
"This led to my interest in Lay Ministry and then the call to ordained Ministry.
"I am looking forward to living amongst you and for you to get to know us - I was given such a warm welcome when I looked around the churches and we feel truly blessed to be coming to you."
BIOGRAPHY :
Liz grew up in East Bristol just around the corner from her husband David (though she didn't realise at the time!). They were just on the edge of the countryside, and she spent her childhood roaming the nearby fields and woods with her dog. She has always read widely and was encouraged by her parents to work hard and do well academically.
After being called to ordained ministry, Liz joined the Diocese of Bristol, serving as Curate in an Urban Church, then as Priest in Charge of a Multi-cultural City Centre Church.
Alongside this she worked with the homeless in the Emmaus community in Bristol supporting those leaving homelessness to live in a working community and then for the last 11 years she has worked in Prison Chaplaincy.
She has also continued to serve in parish ministry in a group of three Rural parishes where she lives presently. During this time, she cared for her parents in the last years of their lives.
She has two grown up children who live in Wales and Bristol and is a very proud grandma to four lovely grandchildren who remind her to play and sing and be silly!
She still spends her spare time roaming the fields and woods, now with her two rescue spaniels. She enjoys reading and crochet and gardening when she can.