Another wonderful commissioning service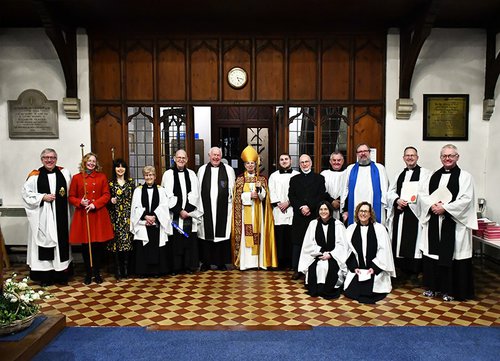 Another wonderful commissioning service was held at the weekend to create a new Ministry Area for the diocese.
Bishop Cherry led the special service at St Marks Church, Gold Tops in Newport on Sunday (23rd January) to inaugurate Newport North West Ministry Area.
During the service, the Rev Rebecca Stevens was licensed as its Ministry Area Leader. Other members of the Ministry Team - Rev Justin Groves (Team Vicar), Rev Liz Houghton (Assistant Curate), Rev Matthew Sellers (Assistant Curate NSM), John Lipscomb (Lay Minister) – were also licensed. Rev Frances Jones (PTO), Rev Henry Davies (PTO), Rev Christopher Watkins (PTO), wardens Nicky Gibbons and Rachel Mitchell and MA Chair Trevor Newman will also be members of the Ministry Team.