Diocesan Conference 2020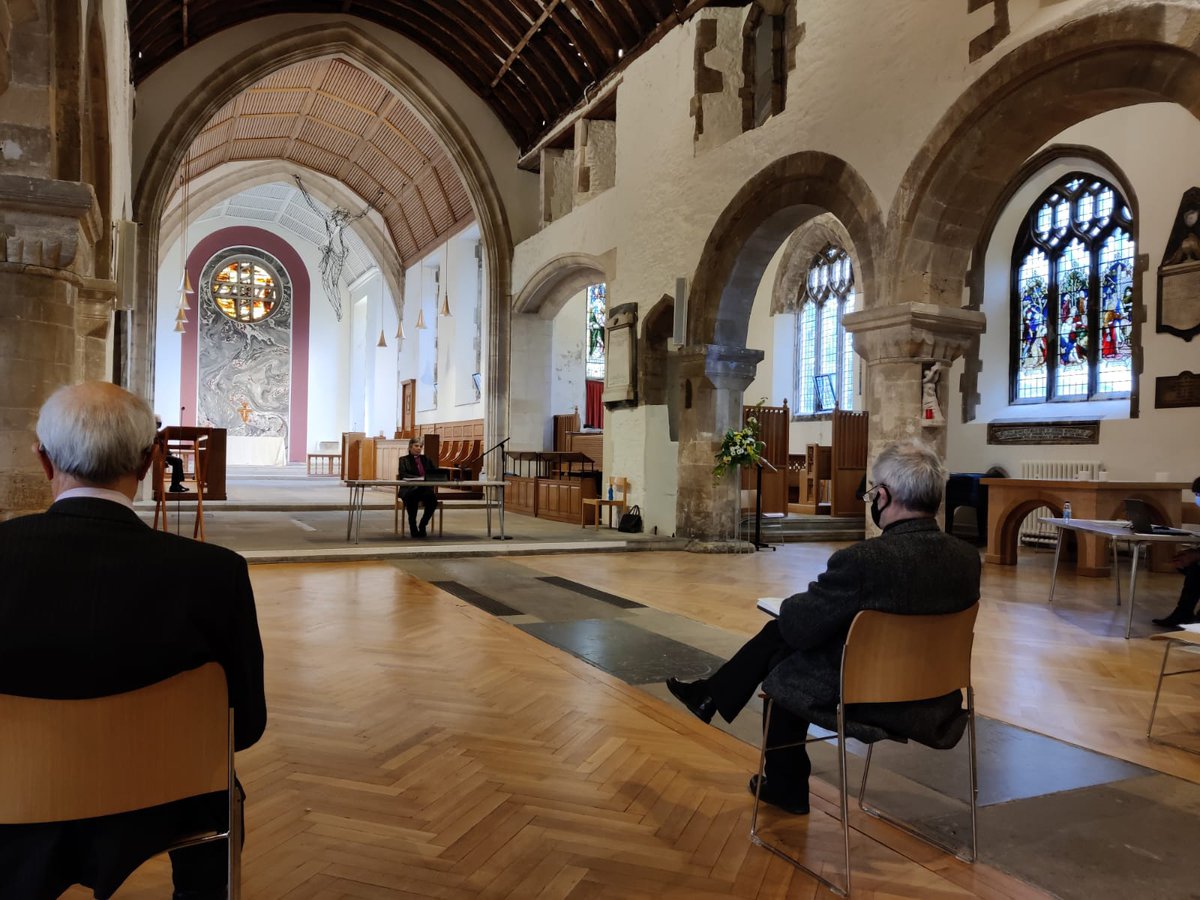 Bishop talks of a 'future with hope' at 'virtual' diocesan conference 2020
Almost 130 people logged on to take part in our first 'virtual' Diocesan Conference.
Working in a 'hybrid' format, speakers were live from the Cathedral, while members and observers watched from their homes.
With chat and Q&A functions, the conference was still interactive – and feedback has been hugely positive!
While the back-drop may have looked stark in comparison with previous years, there were definite positives in the financial and environmental savings of more than 100 people not having to get in their cars and travel to the conference.
Following opening worship and reports from the Standing Committee and Parsonage Board, the financial health of the diocese was explained by Chair of the Diocesan Board of Finance, Peter Lea.
He said: "At the end of March with churches closed and virtually all parish income stopped, what was to happen?
"What did happen was that new forms of worship were developed almost over-night. new means of keeping in touch as a church community were found and on top of that the whole of the church worked together in a way that I have never seen before. the message from day one was 'we are all in this together.'"
He thanked parishes and Ministry Areas for continuing to pay their share, even during these incredibly challenging economic times. He described their commitment as 'remarkable'.
He also added: "In a situation which is changing almost daily, it is difficult to predict the financial outcome for 2020. What I can tell you is that the board is committed to supporting ministry areas for the last quarter of the year."
These challenging times that we find ourselves in, also framed the presidential address by The Right Reverend Cherry Vann, Bishop of Monmouth.
In an energising and empowering speech, she likened the current situation to that of centuries ago when God's people were exiled, taken away from God's house. But rather than longing to go back, God told them to build houses, plant gardens, get married and multiply.
The words God spoke to them through the prophet Jeremiah are these:
"For I know the plans I have for you", says the Lord, "plans for your welfare and not for harm, to give you a future with hope."
As Bishop Cherry explains, "We may not have been exiled…. but we are living in strange times, navigating our way as best we can in unfamiliar territory….
"God invites us to build, plan and nourish ourselves, to get on with living and praying, not just for ourselves but for the welfare of the world around us, and above all, to trust in Him for our future."
Against this 'back cloth' Bishop Cherry highlighted her priorities for the coming years - establishing Ministry Areas, Discipleship and Stewardship.
She explains; "Ministry Areas will establish the framework, within which we can develop and invest in our life and work, our mission and ministry, our witness and service."
She then reflects on two aspects of our Christian life that are foundational to the hopeful future that God promises us. The first is to remember who we are, that is discipleship. The second is to remember that all that we are and all that we have belongs to God – that's stewardship.
"We need to remember who we are and whose we are... to be true to our calling and become the people God calls us to be."