Stevie Wonder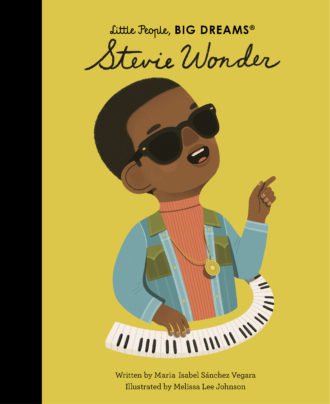 Stevie Wonder is a famous American musician. Read the Little People, Big Dreams Stevie Wonder book. Can you find out 5 facts about Stevie Wonder?
Music
Listen to Stevie's music and think about the lyrics. Many of his songs are about the people in his life and love. Some of his most famous songs are:
You are the sunshine of my life - this song was written about Stevie's wife.
Isn't she lovely - this song is written about Stevie's daughter Aisha.
I just called to say I love you - This song was first recorded over the telephone.
Sir Duke - this song is written about Duke Ellington, a jazz musician who inspired Stevie. You might like to find out more about "Sir Duke".
Happy Birthday
Read the lyrics and listen to the music of Stevie's song Happy Birthday. Who is Stevie talking about in this song? Why does he think there should be a national day to celebrate Martin Luther King? You may like to read last year's book Little People Big Dreams Martin Luther King again?
Messenger of Peace
Stevie was designated a Messenger of Peace in 2009 by the UN for the work he has done to support people with disabilities especially those who are blind or visually impaired. You might like to find out more about other Messengers of Peace, such as Malala Yousafzai, and the work they do. What would a Messenger of Peace do in your community? Maybe you could write a list of essential skills and qualities they might need?
Faith
Stevie is a Christian and grew up singing in church. One of his songs "Have a Talk to God" explains:
"But every problem has an answer, and if yours you cannot find. You should talk it over to Him. He'll give you peace of mind. When you feel your life's too hard. Just go have a talk with God"